REGISTRATION (IMPORTANT, FROM SEPT. 26. 2017, REGISTRATION IS TEMPORARILY SUSPENDED)
EXPRESS REGISTRATION : owing to good word-of-mouth referral, most visitors already know well the principles, the unique spirit, the code of ethics, the 9 ethical commitments, the redistribution of fees in grants, and if so, to save your time, here is the quickest way to become a member if you are a dedicated aquarist or an amateur researcher (for a professional researcher, please enquire by e-mail, before, about that special status with much reduced fees, i.e., 10 + 1 Euro once in life, but no voting rights to K-D-I association, for aquarists in groups, fees are much reduced with no constraints, please enquire by e-mail). First
send money
, 10 Euro to become a (life) member, PLUS the requested time of connection, prorata to 6 Euro per year, e.g., 16 Euro in total for 1 year, 28 Euro for 3 years, or 12 Euro for 4 months only (etc.), electronically to the editor directly via

, click on button 'send money online', then select country for 'I'm paying someone in' (France), then select currency (Euro), then type the amount (net of Paypal charges), then select option 'Friends and Family', (next step) 'to' [Email address] by using the hereafter crypted electronic address (no-reply) in the Paypal website (beware of the spelling) : . Second,
send an e-mail
to fill the official registration to the non-profit association K-D-I from your
personal
e-mail address [
professional
e-mail address for pro-researchers] to the hereafter (different from above for payment !) crypted electronic address (beware of the exact spelling)… . In the
subject box
of your e-mail, please fill in (not less, not more) : Killi-Data, then your full name, then your payment date as YYYY-MM-DD (for example, it will end up as : Killi-Data, Pablo SMITH, 2014-11-25), in the
message box
, please copy-paste all the following text… I (my full name [and my professional position for pro-researchers]) wish to become a member of Killi-Data International and I pledge to fully comply with the 9 ethical commitments of Killi-Data International membership. I accept that any fault will induce definitive exclusion without refunding. My date of birth is (in full as YYYY-MM-DD, if confidential type YYYY-01-01), my country of origin is (type the name of country where you were born), my place of residence is (type your present full postal address with zip code and country). I am or have been a member of the following Killifish Associations (list them with their code and therein your affiliation number, present membership first). My number of years of aquarium experience with killifish is (type a number even if approximate or 0 if absolute beginner). My past collecting trips for killifish are (type none or if any, year, country). My added information are (type none, or free comments, topics of interest, etc.). My preferred killi is (type its name). I select my own ID with 7 to 15 characters including only letters, caps or not (i.e., login, preferably with my last name and initials or my last name and first name, all attached) and I select my own PW (i.e., password) with 7 to 15 characters including only letters, caps or not, AND numbers as (type your selected ID= ; PW= , if not, a computed ID and PW will be attributed by return). I sign (type your name initials, the present date in full and a short unique-to-you statement), then replace the various above mentions between parenthesis by your own data (e.g., [...] My date of birth is 1979-12-25, my country of origin is USA [...]. My preferred killi is Nothobranchius furzeri. I sign Pablo Eduardo Smith, 26 November 2014, Nothos for ever) [notes : from the given data, only name, surname, year of birth, country of birth, city and country of residence, e-mail address will be in the legal books of K-D-I and also online in the members' section for cooperative exchanges between members ; should you wish some of those data are not mentioned or another e-mail address for contacts is used please stipulate this in item above as 'my added information' … to show a full
example
, click on next pic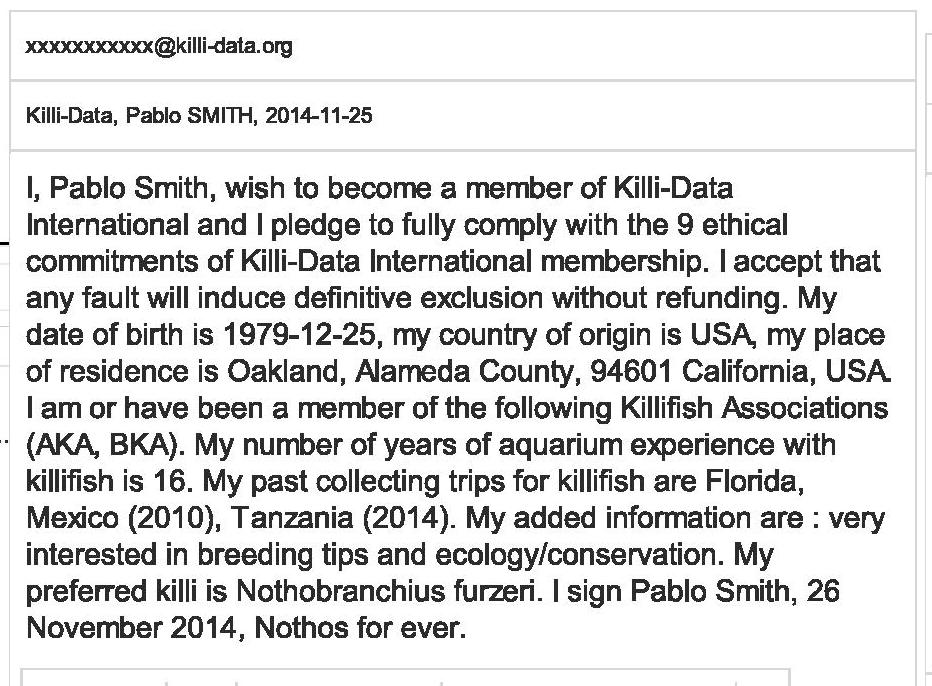 ]… and it is finished (easy) !
Summary of Registration:
Registration costs are mostly used to fund killifish research and collections and advance the knowledge of killifish.
There are two registration options : General and Academic.
In General membership you will pay a 10 Euro once-off payment and then an additional 6 Euro per year payment (you may pay for several years at once) ; you will have access to the database and other resources as well as be able to vote on policy issues (1 Euro today equals approximately 1.11 US$ or UK£ 0.72 ; for prospective members using US$, simply multiply the costs by 1.11 to arrive at an estimate of the costs in US$ and for prospective members using UK£, simply multiply the costs by 0.72 to arrive at an estimate of the costs in UK£).
Academic Memberships are available to researchers at Academic Institutions (with their professional e-mail address) ; the cost is a once-off 11 Euro payment ; academic Memberships do not entitle the member to vote on issues of policy ; for voting rights Academic Member would need to upgrade to a General Membership and pay 6 Euro per year.
To register you will need to supply the following information to satisfy French Law : Full Name, Birth Day and Residential Address ; you will also acknowledge the Ethical Commitments of Killi-data ; see "Registration process by electronic form", below. A form letter is supplied below. Once this Registration e-mail is completed and sent, Paypal the money (select "Euro currency" and "Friends & Family" options and it will be free of charge, if credit card and/or foreign currencies are used, please select "I pay the charges") to .
Once your registration is processed and the money received (only in Euro currency, please !) you will receive a login name and password ; other information, such as what collecting trips you have undertaken (etc.) are appreciated by voluntary ; if it is not possible to pay by Paypal another option exists ; please see below.
Please read the Ethical Commitments stated under the section headed "Registration process" ; further information is provided below as regards principles, payment, etc.
Principles:
Killi-Data is a non-profit venture and it is nested in a non-profit association named Killi-Data International.
A modest subscription fee is kindly requested in all cases, to become a member and to access to the database for a given period.
Redistribution of fees aims to stimulate research on killifish by young researchers, to stimulate collecting trips by young members from killifish associations.
All fees are redistributed, no financial benefit is rewarded to the initial author or to the team editor (see MISSION statement).
The objective of Killi-Data is to develop knowledge of oviparous Cyprinodontiformes (killifishes) by supporting research.
With Killi-Data online, a new theme of financial support is engaged : to stimulate young entrepreneurial and serious aquarists to undertake their first collecting trip in tropical countries, together with experienced aquarists.
If you only wish to donate to Cyprinodontiformes fish research, please see the DONATION process.
Fees are redistributed to:
Are you sure you are ready to send money ?
If you are not sure, then it is not a big deal to wait and start again another time.
If you are ready to pay fees (only Euro), then 2 options, only (sorry, no Credit Card payments are allowed to individuals in France) :
send money electronically to the editor directly via PAYPAL, click on button 'send money online', then select country for 'I'm paying someone in' (France), then select currency (Euro), then select option 'Friends and Family' (sender decides that he pays PayPal charges if any), (next step) 'to' [ Email address ] by using the hereafter encrypted electronic address (no-reply) in the Paypal website (please beware of the spelling as 'KILLI-DATA', NOT killie-data, not killidata, not killiedata… errors cannot be traced by us and for any problem you will have to deal with Paypal directly) :
wrap bank notes with black paper, insert them in an envelope and send it to the present editor in a registered enveloppe at the postal address, Jean H. Huber, 7 Bd Flandrin, 75116 Paris, France by postal mail (ideally registered… if not, at your own risks)
How much money to send?
The amount depends on how long you wish to access the database for the initial period (you may send additional money any time, once you have registered to get first access time).
The minimum amount for the first registration is 10 Euro Plus, i.e. 10 Euro to become a (life) member, PLUS the requested time of connection, prorata to 6 Euro per year (2 months=1 Euro, 4 months=2 Euro, 6 months=3 Euro, etc., without a limit, up to 8 years) and the net amount (= for PayPal "amount sent") is considered only ; Paypal processing is very simple if you use a PayPal account with your current credit or with your bank account and if you select "Euro", "For family and friends", however if you pay with your credit card with PayPal or if you pay from certain countries with specificities in currency exchanges, you will pay to PayPal an additional small fee (cross border and currency conversion), say between 1% and 4% depending on countries… if so tick the box "I pay the additional Paypal charges", otherwise this will reduce your time connection (time connection is computed from the net amount of Euro received)
There are discounts for group registration via groups of individuals with a mutual interest or through a Killifish Association (with a group leader) ; if you are a group of at least 5, 10, 15, 25, 40, or 70 people, it is possible to act collectively : the individual (life) membership is the same (10 Euro), but you'll get discounts or extended connection time per person and much better Paypal charges on renewal for short periods (e.g. for 1 year, at 5 Euro per person if 5 persons in the group, at 4 Euro per person if 10 persons, at 3 Euro per person if 15 persons, at 2 Euro per person if 25 persons, at 1.5 Euro per person if 40 persons, at 1 Euro -symbolic- per person if 70 persons).
How will I get my Login and Password?
Please be informed that:
your Login (ID) will be built by using exactly 10 characters with your name followed by your initials with only letters without blank space, without hyphen, without underscore, without dots, and with simple letters (only, a-b-c-d-e-f-g-h-i-j-k-l-m-n-o-p-q-r-s-t-u-v-w-x-y-z, lower case or upper case, no accentuated letters like œ, ã, ç, é, ê, ü, etc.), e.g., SmithPablo
your Password (PW) will be built by using exactly 10 characters with a combination of letters and figures, without blank space, without hyphen, without dots (only, a-b-c-d-e-f-g-h-i-j-k-l-m-n-o-p-q-r-s-t-u-v-w-x-y-z-0-1-2-3-4-5-6-7-8-9, lower case or upper case), no letters only or no figures only, no accentuated letters like œ, ã, ç, é, ê, ü, etc.), e.g., bla1BLA2xY
After the fees are received and the registration process is finalized, you will receive an e-mail with your Login and Password and the connection time pro rata to your fees net of Paypal charges : keep your ID and PW safely, they are permanent and they are attached to your (life) membership to the non-profit association and if lost they will not be sent again and the membership process will have to be started again (with new fees) ; if you wish, you'll then be able to change both ID and PW provided that ID is still starting with your name in full and ID and PW are each made of exactly 10 characters, only with Latin letters and numbers.
Registration process by e-mail
Please fill in the data fully.
Your personal information will not be transferred to any third party (see OPTIMIZATION)
Have you read carefully the foreword of this page? Did you grasp the spirit of Killi-Data online ?
Do you want to be part of the community of knowledge on Killifish ?
Do you know the 2 ways to send money ?
By becoming a member of Killi-Data, you comply to the following 9 ethical commitments
Because they are so important to the cooperative spirit of Killi-Data
while subscribing to Killi-Data online,
I have forwarded correct and complete information
I shall not download any photo or any file from the data base, except for private use
I shall never attempt to download the complete web site
I shall not give my login and password to other individuals, whoever they are
I shall make every efforts to contribute to Killi-Data by forwarding any missing data or by informing of errors, according to my own capacities
I shall always refer to Killi-Data either printed book or online, when publishing information issued from the database, and quote it as a bibliographic reference
I shall conform to the netiquette in all aspects
I agree with the principles to build a cooperative platform to develop knowledge on oviparous Cyprinodonts or Killifishes
I pledge to usually use the same Internet connection line to access to the database
Registration process by direct e-mail
Please send an e-mail from your e-mail address (if you register as a professional researcher, it must be your professional e-mail) and follow the process as shown at the top of this page (easy, now that you know everything on the process !)
What will be the next step after you have paid and accurately registered ?
You will receive a simple e-mail of confirmation (Login, Password, keep them safely) with the last date of possible connection (according to your initial fee, pending renewals).
This may take some time (usually 1 week and during summer in France, up to 3 weeks, because it is a duty done by volunteers only and they deserve holidays too… please be patient).